by Michael Kerr, Instructional Leadership Consultant, Special Education, Kawartha Pine Ridge District School Board
Mobile devices by nature of their design are for personal use. We store personal information on them, we carry them with us, we use them dozens of times a day. Some of these devices even recognize our faces, fingerprints and our voices. Mobile technology is bridging the gap between the inherent shortcomings of our brain and the tasks we ask of it every day. Long and short term memory is being supplemented, and in some cases replaced, with powerful tools available on our mobile technology. Now that is getting personal! For people with learning disabilities (LDs) and possible memory deficits, personalization is key. It allows the user to organize and personalize the tools they need as well as the environment that they operate in.
Here are some types of Assistive Technology which are available standard on mobile devices:
Intelligent Personal Assistant or Knowledge Navigator
Mobile assistants are becoming more powerful and are being adopted in various forms by all major mobile technology developers. Google is developing Google Now technology,2 Apple continues to expand Siri1 and Microsoft has created Cortana3. Using personal data and GPS location data, mobile assistance can provide smart information and assistance on a whole range of topics, including: dictation, reading emails, texting, making a reminder, calling someone, restaurant reservations, solving math problems, getting the weather, looking up basic information, performing a web search, getting directions and finding alternate routes, real time and geo tagged reminders, package tracking, etc. Although these are powerful tools, there are much greater personal assistants being developed.
Reminder Software
We have all used various methods of recording reminders, from to-do lists on the fridge to writing on our hands. The mobile technology of today makes it much easier to record the things we need to remember to do. There are literally thousands of programs that can be used to store and retrieve to-do or reminder lists. These programs can be device-based or stored in the cloud. They can be simple, colour-coded and feature-rich, including prioritization/completion tracking and can include date and time reminder alarms. They can even remind you to do something when you arrive at a destination. Cloud- or web-based options can be handy for people with LDs as well, as reminders can be accessed from anywhere. Help your child make a habit of using an organizer by prompting them to enter important information while they are in the beginning stages of using this technology. It can change how they work and how efficient they can become!
Calendar Applications
Calendar applications can make a huge difference in the organization of anyone's life. We have all experienced the situation where you can't make a decision about a meeting until you check the fridge calendar at home. Having multiple calendars is not efficient, particularly for anyone who experiences difficulties with organizing and prioritizing tasks. With mobile calendars, cloud-based options, and calendar subscriptions, it is possible for someone with LDs to keep all of their appointments and activities accessible all of the time. Consider having a family set of calendars that are shared so you can help your entire family stay organized. Google, Microsoft and Apple all provide free web-based calendar options for mobile devices, and they can usually talk to each other. iCal is a universal calendar system that allows you to subscribe to calendars that are available online. Imagine creating an online calendar for all of your family members that all of you could simply subscribe to and then all future changes and updates would be automatically entered into your mobile devices! That would make tracking family activities a much simpler task.
Dual Cameras
Cameras serve many purposes on mobile devices. They can assist someone with LDs in many ways. First, visual communication through applications such as FaceTime or Skype can simplify communication for everyone. Second, video cameras and still cameras can provide individuals with alternate forms of expression. Instead of a written assignment, talk to your child's teacher about the possibility of filming and editing a rant using their mobile device. Third, a camera can be used as a simple tool to capture information that might often be written down, making it easy for an individual to capture and save important information quickly. Finally, the camera could be used as a scanner to capture text and convert it to speech, allowing an individual access to mobile text-to-speech capabilities.
Dictionary, Thesaurus, Notes and Bookmarks
Built into the operating system of most Smartphones are powerful dictionary and thesaurus tools that are only a click away from any word on the screen. It is also possible to easily make notes, bookmarks and highlight text within eBook readers for reference later. These tools make comprehension and study of digital print resources easier than ever, particularly for students with LDs.
Phonetic Word Prediction
Phonetic spelling can be enabled in the accessibility settings of many devices allowing assistive word prediction accuracy to be improved for users with spelling difficulties.  Speech is now available for word predication so that the correct word can be selected by sight and by sound.
Speech-to-Text
Speech-to-text technology has evolved over the past two decades into a powerful tool for all technology users, but particularly for people with LDs who are struggling in translating their thoughts into words and sentences. It initially was available as software for desktop computers and is now very functional on mobile devices. It is increasingly being integrated into operating systems, applications and web browsers and the accuracy is very high.  It is important to remember that speech-to-text works best when the user speaks in full sentences, with fluency and with good volume.
Speak Notifications
Periodically, error messages and warnings will appear on the screen of mobile devices. These can sometimes be challenging for struggling readers. Clicking "OK" is not always the best option. With notification speech enabled, these messages are read aloud for the user so they are capable of making the correct choice.
Text-to-Speech – with Highlighted Speak Selection
A text-to-speech (TTS) system, originally referred to as speech synthesis, converts normal language text into speech, and has been available for decades on personal home computers. Now it is available with multiple voices, dialects and languages on your mobile device. Text-to-speech on mobile devices can be customized for male or female voices, speed and language, quite easily in the settings of the device. Most operating systems provide a built-in voice and many applications provide additional voice options.
A recently added feature to mobile devices is that of highlighted text during text-to-speech reading. This feature allows readers to follow along while the article or text is being read aloud. Speed settings can be customized and the colour of highlighting in some cases can be selected. This feature has previously only been available on desktop and laptop computers with expensive software. Now it is increasingly being included in the operating systems of mobile devices.
Font Size and Font Type – Dyslexie Font – A Weighted Font for Readers with Reading Disabilities
Fonts, size and spacing all play a role in the ease with which a person can read. Unfortunately, almost all books are published in the same font size, type and spacing. These features are not customizable in fixed print, but on a mobile device all that changes. Here is a clip of a font that is available in some apps for readers with reading disabilities. It is called Dyslexie and it is weighted font that has been developed so that each letter is different from every other letter.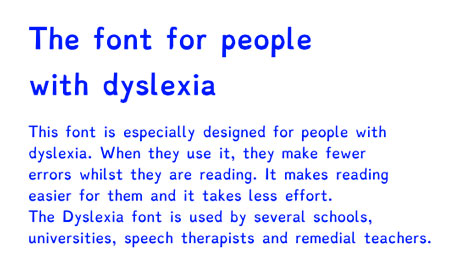 (Image source: http://creativebits.org/print/font_people_dyslexia_dyslexie)
Dyslexie Font from Dyslexie Font on Vimeo.
Guided Access
An accessibility option available to help teachers and parents working with children with LDs is Guided Access. When enabled, it allows parents and teachers to have students focus on one app at a time. If attention is an issue, this can help the learner engage more fully with a specific app to improve their learning.
What is coming next to your mobile device?
There are many reasons to learn to use the tools and apps on your mobile device.  They can provide tremendous supports for learners in so many ways.  In the future, there will be many new mobile technology developments,5 possibly including:
Tablets with flexible and re-sizable screens
Glasses that become our phones
Contact lens screens with built-in processors
Faster networks
Smaller devices – Watches
Wearable technologies
Powerful Digital Assistants
Battery and Wireless charging technology improvements
Biologically embedded technology
Health and Nutrition monitoring
Useful Apps that can expand the functionality of your mobile device.6
The table below is a collection of apps for students, teachers and parents.  They can assist and support learning in a variety of domains and subjects.  Click on each link to be directed to the website or the Apple App Store.  Full descriptions, cost, reviews and vetting information are available.  Although this list is specific to Apple devices, many of these applications are available for Android devices, less so for Microsoft.
Assistive and Adaptive

Read Iris

Siri

Art

Audiobooks

iBooks
Scribd

Augmented and Virtual Reality

Blogging

Coding

Collaboration

Creative

Early Learning

eBooks

Educational Games

eLearning

Finance

Graphic Organizers

Geography

Health

Canadian Red Cross First Aid Daily Workout

Languages

LEGO Mindstorms

Life Skills

MakerSpaces

Math – Primary

Math – Junior / Int

Math – High School

Media & Communication

Montessori

Music

Organization

Photography

Presentations

Radio – Streaming

Reading

Reference

Robotics

Science

Self-Regulation

SMART Board Tools

Social Networking

Spelling and Phonics

Storage

Study Tools

Tools

Writing

Video Creation
References:
Apple Inc. (2017). iOS 10. Retrieved from: http://www.apple.com/ca/ios/ios-10/
(n.d.). The world's most popular mobile OS. Retrieved from: https://www.android.com/
Windows Central. (2017). Windows 10 Mobile. Retrieved from: http://www.windowscentral.com/windows-10-mobile
(2011.) The font for people with dyslexia: dyslexie. Retrieved from: http://creativebits.org/print/font_people_dyslexia_dyslexie
Fawcett, K. (2014). The Future is Here: What's Next for Mobile Phones? Retrieved from: http://www.smithsonianmag.com/smithsonian-institution/the-future-is-here-whats-next-for-mobile-phones-180951479/
Apple Inc. (2017). Your music, movies and TV shows take centre stage. Retrieved from: http://www.apple.com/ca/itunes/